Open-air Bath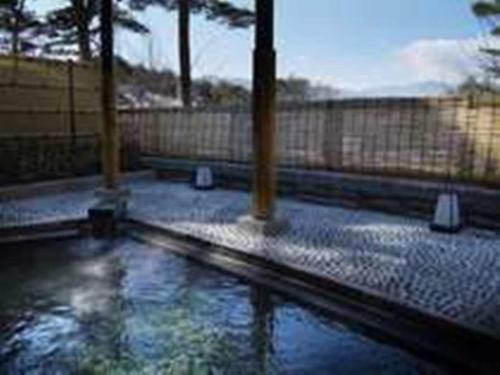 Night from the evening, it is exceptional to soak in the hot springs while the sky turns dark gradually with the red pine forest surrounded. Starry night sky, the morning is refreshing with birdsong. Please try enjoy pleasure of soaking in the open-air bath while the expression of the bath (Color of the bath) changes from time to time.
Good For: Fatigue recovery, health promotion, arteriosclerosis, chronic women's diseases, poor circulation, chronic digestive diseases, neuralgia, muscle pain, joint pain, frozen shoulder, motor paralysis, stiff joints, Utsumi, sprains, itching disease, illness recovery period, cut scratches, burns, frail children etc.
Binchotan charcoal Bath
Binchotan charcoal is being said good for detox as its excellent effection of promoting blood circulation and warming up body as a result.
Binchotan charcoal Bath
Overlooking the red pine forest from the open large windows, you can heal from tired slow journey by stretching out hands and feet in a big bathtub. There is also a sauna in the bathhouse as well.
Relax space after bath
There is a relax space (rest space) in the property for you to enjoy after soothing bath. There are some snacks prepared such as Ice Candy, Ice cream and some softdrinks.
Open time: 15:00 ~ 24:00 / 06:00am ~ 10:00am